Barbara Bush, Republican matriarch and former first lady, dies at 92.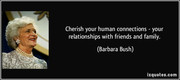 To us, family means putting your arms around each other and being there.
I married the first man I ever kissed. When I tell this to my children, they just about throw up.
Cherish your human connections - your relationships with friends and family.
Condolences to your family.
May you rest in peace!