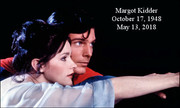 Margot Kidder, Actress Who Found Movie Stardom in 'Superman,' Dies at 69
Margot was at her home when she passed away, according to the spokesperson at Franzen-Davis Funeral Home in Livingston, MT. The cause of death is unknown at this point.
Margot starred opposite Christopher Reeve in 1978's "Superman," and also in the 3 sequels. She continued acting right up until this year, taking small roles in TV shows and movies -- but also had stage roles ... including "The Vagina Monologues" on Broadway. She reportedly had 2 more roles yet to be released.
May you rest in peace!