Comic actor Bill Daily died 9/4 at the age of 91. Rest in peace, major Roger Healy and Howard bordan!
---
"For I know that my redeemer liveth, and He shall stand beside me later on."
(Lucas in Home Ranch)
---
~Deneen~
* Johnny Crawford *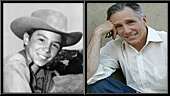 You Are In My Prayers
---
To my knowledge and recollection, bill daily was one of the few actors to play two iconic "second bananas" on two different shows. The only other actor was don knotts, who played both barney fife and Mr. Furley.
---