Site Admin

Posts: 6380
Joined: Fri Apr 21, 2017 7:34 pm
Location: North Fork - New Mexico Territory c/o of The McCain Ranch
Contact:
"Keep your 'sites' on The Rifleman"
"The Rifleman hits the 'Mark' every week on abc."
A cowgirl's work is never done.
---
Gads.....that coat was so funny as well as those boots Mark tried on the one time. Lucas said "walk in them.....boots are made for walking".
I think of the song Nancy Sinatra sang....those boots are make for walking every time I see that episode. I checked and the song came out 1966 so it was after the show was off. But Lucas may have coined it first
also love the way Lucas is always tilting Marks hat and such. I wonder if that was scripted or just a natural playful thing for them. I have always wished Johnny had written a book. So much will be lost since he has not.
also wonder if Mark ever outgrew wearing a nightshirt and slept in bed like Liucas did........
"For I know that my redeemer liveth, and He shall stand beside me later on."
(Lucas in Home Ranch)
---
Why didn't Lucas buy Mark some nice tight blue jeans?


Mark and Lucas had matching belt buckles. They also had matching gloves. So Cute!
"Conflict" ~ Mark was sleeping in long johns.


~Deneen~
* Johnny Crawford *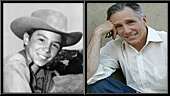 You Are In My Prayers
---
Maybe for the same reason Milly didn't buy Sally some!!
(Different time in tv history... Today... they probly would have!!)
Dan
Q: What did the farmer say when he couldn't find his tractor?
A: Anyone seen my tractor?
---