Ranch Alumni

Posts: 71
Joined: Mon Feb 10, 2020 8:07 pm
Location: San Francisco
Contact:
Awww, I'm sure your cards will be enjoyed and appreciated!
---
Ranch Alumni

Posts: 71
Joined: Mon Feb 10, 2020 8:07 pm
Location: San Francisco
Contact:
Good Sunday Morning! Johnny has been doing pretty well this week. It's been a crazy week with all that's going on in the news.
Last Sunday, Natalie came and visited with Johnny at Glen Park. She was feeling good again, and we are so grateful she could spend time with Johnny. He gets such enjoyment from her enthusiasm.
Monday, Johnny lit up when Darby Hinton visited, Darby told him about his new movie project and Johnny responded with his smiles. Thank you Darby.
Tuesday, the rain started so it wasn't wise for Laurie to take him out for one of their sightseeing trips. So, she stayed at Glen Park with him and entertained him with the things she brought. He liked looking at the antique photo album and examining the 1906 gramophone and cylinder recorder and recordings. Thank you Laurie!
I want to give a special thanks to Tracey Bacus for all the great work she does for Johnny on his Johnny Crawford Legacy Facebook Page! You're the best, Tracey. And, to Stacey Shaffer who has been getting the Johnny Crawford Legacy Website up and running! You're also the best!
Wednesday, our house doctor told us that Glen Park should be locked down because of the virus and it's potential problems for the elderly in our community. Now, visiting is limited and our residents are limited in going out. We cannot take in any new residents until this crisis passes. Johnny is safe, though, and well taken care of. We sincerely hope that you and your families are staying safe and well, and are weathering this situation in good spirits.
Johnny is truly blessed by the love and devotion of his fans, friends, and family. We love you.
Charlotte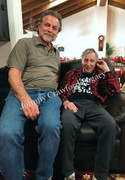 Darby Hinton and Johnny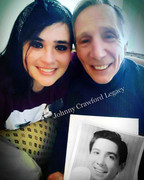 Natalie and Johnny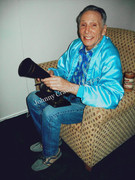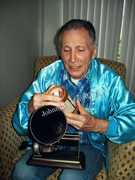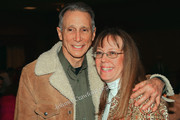 Johnny and Tracey Bacus
---
Ranch Alumni

Posts: 71
Joined: Mon Feb 10, 2020 8:07 pm
Location: San Francisco
Contact:
Hello Everyone!
I don't need to tell you that our lives are experiencing very different times. Johnny is doing fine at Glen Park. The facility has been in lock down since last week so no visitors allowed and no residents can go out unless for an emergency. Our Activities Director is able to come in every day to try and keep the residents busy and entertained, but she must leave early each day to take care of her children who are, of course, not in school. All of us are doing our best to cope.
Birthday cards for Johnny are coming in and I took a picture of the stack that was there at the end of the week. Thank you all for sending cards and good wishes. We were going to have a party for Johnny, but now it will be just the residents. Richard Rosso says he will have a cake sent to make the day more festive.Thank you, Richard.
Please check Johnny's Website daily. Stacey is in the process of setting up a way for you to purchase a new two song DVD that Johnny's Legacy Team has been working on. We are very excited to be able to make this available and we are anxious to hear what you think.
We are very concerned about you and your families. Please stay safe and well. I am doing all I can to keep Johnny safe and well.
Charlotte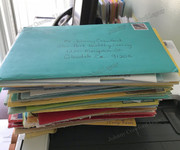 Last edited by
TheUglyBugBall
on Mon Mar 30, 2020 4:44 pm, edited 2 times in total.
---
Ranch Alumni

Posts: 71
Joined: Mon Feb 10, 2020 8:07 pm
Location: San Francisco
Contact:
March 29, 2020
Hello Everyone! Johnny and I are still doing as good as we can during this time of stress and sadness for our country and the world.
We did have a happy time celebrating Johnny's 74th birthday at Glen Park. I was disappointed that the plans we originally had to have friends and family in and enjoy the wonderful cake that Richard Rosso planned to send over had to be cancelled. HOWEVER...the staff and residents at Glen Park rallied together, I was able to get cake at COSTCO and a few balloons so the party was on. Johnny received hundreds of encouraging and sweet birthday cards full of heartfelt wishes from family and friends. There were gifts of books and other fun things that he will enjoy, and his smile said that he was grateful. Thank you all for all the loving and sincere things you do for him.
I want to say how pleased I was when I found out that Johnny was awarded The Best Cameo award from the Sunny Side Up Film Festival for his cameo of William S. Hart in Bill Tilghman and the Outlaws movie (Now called The Marshal). I'm so glad he was recognized with this award.
We are getting closer all the time to having a shop on his Website where you can see what we have available to purchase. Brother Bobby and Stacey Shaffer are working tirelessly on getting this accomplished. Stay tuned.
Thank you again for making Johnny smile with your birthday wishes. I am hoping and praying that you and your families weather this storm safely and in good health.
Charlotte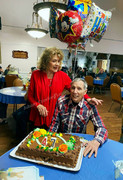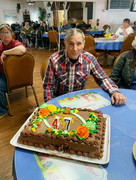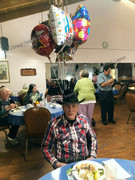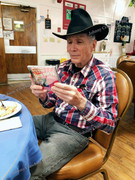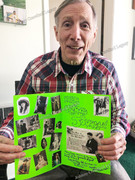 Last edited by
TheUglyBugBall
on Mon Mar 30, 2020 3:45 am, edited 1 time in total.
---
Thank you, Stacey, for keeping us updated on Johnny's life via Charlotte's write-ups. I am so glad that Johnny had a wonderful birthday, in spite of the crisis we are all experiencing at this very difficult time. I love the pictures; Johnny sure looks happy!
"God has you in heaven, but I have you in my heart." ~ TobyMac
---
Ranch Alumni

Posts: 71
Joined: Mon Feb 10, 2020 8:07 pm
Location: San Francisco
Contact:
It's a pleasure to share the reports. Johnny does look happy, doesn't he?
S
---
Site Admin

Posts: 7660
Joined: Fri Apr 21, 2017 7:34 pm
Location: North Fork - New Mexico Territory c/o of The McCain Ranch
Contact:
Thank you Stacey & especially Charlotte for all the love and support you have giving Johnny.

It looks like he had a really nice time. That's what counts.

Besides the cake it sure looks like Johnny had a really good meal also for his birthday.

A big thank you goes out to Bobby, Paul & Friends for all the support you guys & gals have given Johnny. I'm sure he wouldn't have made it this far without ya'll.

Please be safe!
"Keep your 'sites' on The Rifleman"
"The Rifleman hits the 'Mark' every week on abc."
A cowgirl's work is never done.
---