This is taken from the page talking about Doc Burrage...
"There were two doctors before Doc Burrage although neither of them were ever named or given credit. Those two episodes were The Sharpshooter and The Marshal. In End of a Young Gun Lucas told Hank he would go get Doc Sedley?"
I think I may have found our other doctor in town... if you look really close at this sign from the episode, "The Blowout," it looks like it says Dr. Jay/Jeff Cal... Callahan maybe?
This picture isn't the greatest resolution, but you can see it better when you watch the episode. About 24:06.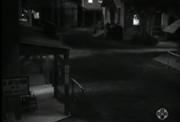 https://m.youtube.com/watch?v=T4rCfJ1RyQQ
Man, I would love to talk to the set designers!