I watched
"The Assailants"
the other night and a few things didn't make sense to me...
Why was Nils attending a
Cattlemen's
Association meeting?
When Lucas asked for the support of the association, why did Nils speak up?
Why were they using Micah's office instead of the town hall?
Why did Micah have to ask Lucas what the result of the meeting was if the door to the office was wide open? This, in and of itself, is a
blooper
.
Speaking of bloopers, after Mark and Lucas leave the hotel, Mark comments on how the soldiers don't take very good care of their horses and goes to look at one of them, Lucas right behind him. When the soldiers look out the window, there's only one person on the street. When the shot goes back to Lucas and Mark, Mark has moved out of the way so Lucas can look at the shoe, but they're side by side again.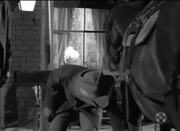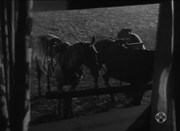 Why does Mark assume that Nils knows where his pa is? Lucas was supposed to be at the marshal's office, why would Nils know where he is?
And why
does
Nils know where Lucas went? If Lucas stopped by the livery to say where he was going, why didn't Nils go with him?
Why did the senator not have any security? There wasn't even someone riding shotgun; the driver had to hold the reins and aim the shotgun at Lucas at the same time.
Why did Senator Borden step out of the carriage when three strangers rode up to him in the middle of the night, in the middle of no where?
Why didn't Mark yell out to warn Lucas instead of throwing a rock through the window? He could have warned him of the situation more effectively that way.
In the last scene, why did Lou come out of the office with Micah, Senator Borden, and Senator Borden's companion? If anyone should've been in there with them, wouldn't it have been Lucas?
So many questions...